7 SPORTS TECHNOLOGY TRENDS TO WATCH
Technology's growing influence on professional and amateur sport continues to permeate across leagues, teams, and individual players around the globe.
How will technology influence the strategy and tactics of these constituencies? To what effect will the intersection of technology and changing market forces have on sport, and what will be the resulting impact on sport broadcasters, leagues, and fans?
For the answers to these and other tingling technology questions, ChyronHego Product Manager Niall Hendry and Director of Sports, EMEA, Ian Wray have put forth for your immediate deliberation 7 Sports Technology Trends to Watch in 2018.
1. Deriving relevant statistics. 
That is, data is becoming more and more prevalent in our everyday sports lexicon. However, with a lot of data comes a lot of unanswered questions, perhaps even the wrong ones asked. 2018 will see more people in sport begin to filter out what's relevant and what is of true quality. This will be aided with the assistance of AI, and an increased understanding of the data they're looking at.
2. Broadcast breakup?
The growing influence of Twitter, Amazon, Facebook and other streaming/OTT platforms continue to increase their presence by offering live sports to a millennial market. The traditional broadcast market's conventional delivery mechanisms may have to change to compete.
3. Convergence of software.
There is no such thing as a silver bullet, however, vendors now understand that sports teams have limited windows of opportunity, given heavy playing schedules, to produce high-quality and easily digestible analysis. 2018 will see workflows streamlined in order to assist the needs of the market.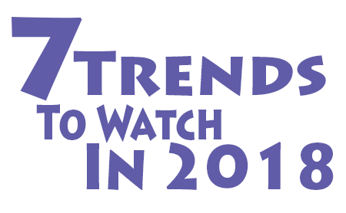 4. The emergence of hybrid tracking solutions.
With the growing realization that neither Wearable Tracking nor Optical Tracking alone is the silver bullet to the collection of sports data, 2018 will see a combination of the data sets from different technologies. Usage of Optical Tracking will continue to dominate in competitions and league-wide deployments, but Wearables will begin to play a complimentary role in providing additional metrics, automated input to optical system tagging, and system fail-over redundancy.
5. The broadening merger between data and video.
2018 will see the development of tools and workflows that further solidify the marriage between sports data and video. Data will extend its relevance from simply the physical coaching analysis of individual athletes, to the tactical game-play analysis of sport. The use of data queries to identify specific key moments of interest within sports games will help to accelerate video analysis and to educate athletes on the tactical elements of their game.
6. Live in-game data use.
More sports will start to take advantage of data being delivered to the coaching staff, referees, and athletes live during a game. This will drive a new wave of competitive insight to help adjust tactics during a game, as well as help to reduce injuries and ensure greater regulatory fairness.
7. Standardization and accreditation for tracking solutions.
With a growing number of vendors and technologies in the sports tracking market, there is an ever-growing need to standardize their data outputs and independently validate accuracy.
As data is being used for more and more mission-critical decision-making and applications, it is vitally important that sports technology vendors provide the sports industry accuracy and consistency of their datasets that is both verifiable and certifiable. Industry initiatives, such as Electronic Performance and Tracking Systems (EPTS) spearheaded by FIFA, are helping to formalize a much more objective and independent validation process that will drive both the accreditation and standardization of tracking data, grounded in scientific rigor.