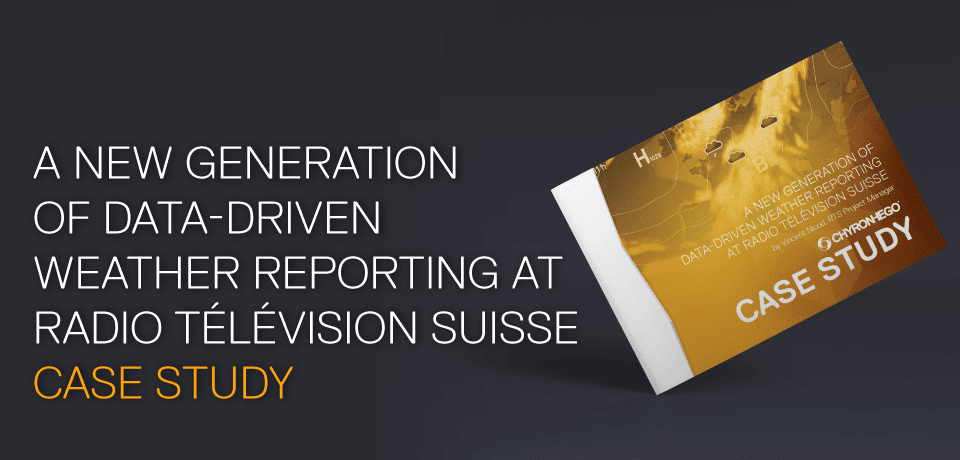 A NEW GENERATION OF DATA-DRIVEN WEATHER REPORTING AT RADIO TÉLÉVISION SUISSE
Radio Télévision Suisse (RTS) is Switzerland's leading French-language broadcaster and news organization. With their ongoing commitment to deliver top-quality, accurate, and graphically compelling weather forecasts to their viewers, they are continually improving their weather broadcast workflows and always on the hunt for leading-edge technology solutions.
Metacast, ChyronHego's solution for advanced weather content creation, has been in use at RTS for over a decade. In 2016, RTS launched a project to upgrade their weather broadcasts with the latest generation of Metacast.
"For the Metacast upgrade, the collaboration we've enjoyed with the ChyronHego team has been fantastic. By leveraging the broad and deep expertise of the ChyronHego engineers, informed by many years of global Metacast deployments, we have been able to deliver a truly outstanding weather product. Our trusted partnership with ChyronHego is a critical element for something as important as accurate and up-to-the-minute weather reporting – both to keep RTS viewers informed and to give the network a competitive advantage," said Vincent Nicod, Project Manager at RTS.
Download the Case Study by filling out the form below.