It makes us happy to hear how ChyronHego products expand our customers' capabilities and help them tell stories in captivating ways.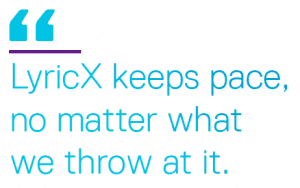 Our LyricX customer, Jeremy Tidy of Happy Graphics authored a Customer Success Story about how he uses data-driven graphics to enhance the viewer experience for the British Superbike Championships. In the story, he explains how LyricX has, "the flexibility, power, and creativity we needed to meet the needs of our broadcast clients."
Jeremy needed a graphics solution with the power, creativity, and flexibility to meet the needs of his large broadcast clients – so Happy Graphics chose LyricX, our world-renowned graphics and playout solution.
Happy Graphics' work is on display during some of the UK's largest live broadcasts. By using LyricX, Jeremy and his team use a broader set of timing feeds than ever before. They're able to present running clocks from each bike during qualifying runs. They store more timing data and present comparative graphics that show speeds over multiple laps during a race. And, they dynamically update the leaderboard graphics after every lap to keep the commentators better informed.
LyricX is the new generation of our renowned Lyric software. Designers, like the team at Happy Graphics, embrace the usability and more accessible tool set. LyricX reduces your time-to-air and is more capable and flexible than ever before – here's how:
Lyric PRO and LyricX messages are 100% compatible! Move seamlessly between Lyric PRO and LyricX: messages from 6.5 and up are completely compatible, editable and saveable;
Great User Experience & Performance! LyricX uses new timeline so animating and modifying keyframes is intuitive and fast.  A new shader-based rendering pipeline, our re-architected masking with 16 layers, optimized movies, and extensive auto-follow optimizations makes building scenes easier than ever.
Get more output resolutions for Video Walls & 4K! Now 64bit, LyricX is ready for 4K and beyond on ChyronHego's HX Platform. And, with a resolution-independent canvas, Video Walls are no sweat with the optional Display Matrix Feature available with the HX and MX system.
To learn more about how Happy Graphics uses LyricX to produce supercharged graphics, download the case study!