Helping people understand your message is easier when you use visual graphics. Years ago, I advised my local church on how to display graphics to correspond to the message of the day. Today, it's very common for houses of worship to stream and broadcast their services to parishioners who can't physically make it to a service, so producing engaging content is key.
To serve their 8,000 Hong Kong parishioners effectively, the 611 Bread of Life Christian Church is always on the lookout for compelling ways to increase their production values to elevate their message. They chose ChyronHego's Plutonium Virtual Graphics Solution to boost church broadcasts with virtual sets.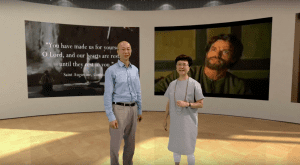 ChyronHego's Virtual Graphics Solution, Plutonium, makes it possible for 611 Church to tell their story using compelling, realistic environments – enabling the church to avoid the costs associated with constructing additional sets or traveling to a location. The growing 611 Church modifies virtual graphics templates to easily create customized church sets and other virtual elements, and they use the precise robotic tracking system to capture video with no delay.

Plutonium, our tracking, virtual set solution turns the complex art of creating, placing, and interacting with virtual graphics within a live video environment into a simple process that helps you visually tell your stories.
To learn more about how 611 Bread of Life Church uses their Virtual Set solution to enliven their message, download the case study, "House of Worship – The Power of Realism."