When I visited Tegna station, First Coast News in Jacksonville, Florida, to learn how they use virtual graphics, a key theme proliferated our conversation: how they connect with viewers by telling the best story possible.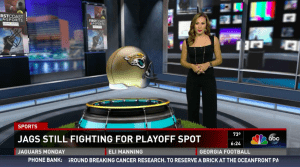 First Coast News is committed to conveying their stories in multiple ways – the way that best fits the subject matter. In whatever way that connects with people the most meaningfully. 
In talking with the staff at First Coast News, it was evident that adding virtual graphics to their reporting helps their viewers connect with the news in an emotional way. In a single newscast, they'll use virtual graphics to tell one story, then switch to a traditional set to set a different tone, then switch back to a virtual set with an animated augmented graphics piece.
Journalistic integrity and connecting with their audience come First.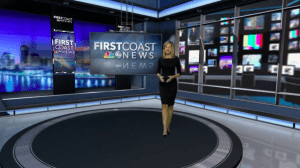 Initially, First Coast News decided to use our our ChyronHego Virtual Graphics Solution, Plutonium because of an urgent need to look unique and to add a wow factor to their sports stories – to set themselves apart. They needed the right tool to help them and trusted the capabilities of Plutonium. First Coast News ramped up their virtual graphics workflow very quickly – within a week. Today, they use virtual sets and augmented graphics several times each day.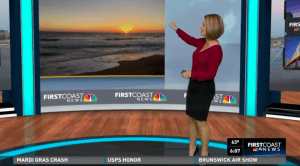 Creation of cutting-edge augmented graphics at First Coast News helps lure new, creative talent into their workforce. The team implements ideas from on-air talent, producers, directors, and advertisers – and weaves these ideas into animated works of augmented reality art. First Coast News expands the look of their studio by running multiple, animated virtual sets, with video walls and virtual studio monitors. Using virtual sets and walking around invisible, 3D art has become second nature to the on-air talent – each person seamlessly weaving this art into their reporting style. And, they do all of this with a refined staff. 
The teamwork and excitement around telling their best stories is palpable at First Coast News.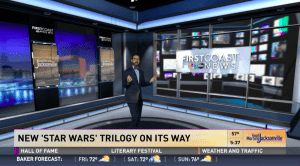 "Not all stories are the same. This helps us tell the story, it helps us explain the story, it helps us show the story. We can use bigger images. We can use bolder images. We can change images more often. We can do things we've never been able to do before." – Rob Mennie, President and General Manager of First Coast News in Jacksonville, Florida. 
To see how this Jacksonville, Florida news organization integrates virtual sets and augmented reality elements into their storytelling, DOWNLOAD THE CUSTOMER SUCCESS STORY: FIRST COAST NEWS.