In a previous post, we introduced you to ChyronHego's new universal graphics platform, the PRIME Ecosystem. The PRIME Ecosystem is based on the latest version of our most powerful render engine. It is architected to support either independent or numerous packages that can operate simultaneously from a single PRIME server – including a Branding Package, a Clips Package, and more.
That's right, PRIME can output on a single system both graphics and clips that previously required multiple systems. The fact that PRIME's Branding Package and Clip Package will play out simultaneously from a single system is just one measure of PRIME's ability to deliver to our customers a lower Total Cost of Ownership.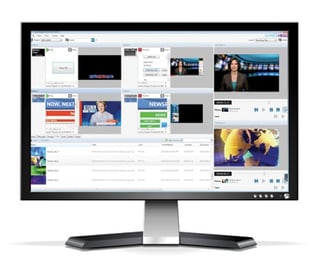 The ability to get more today for less than you spent yesterday is the cornerstone of ChyronHego's philosophy of leveraging software-driven solutions. Put into perspective, with the PRIME Ecosystem you get a multichannel graphics platform, a clip playout package, complete automation, multiple scripting engines, unique Warp Effects, support for 4K, and more for less than what you would have paid only a year ago for two discrete devices to handle both branding and clip playout. Channel Box PRIME is indeed greater than the sum of its parts, giving you more for a greater return on your investment.
Plus, you get exactly what you expect from ChyronHego: Separate browser-based playout and designer interfaces (scriptless and template-based) built within the application, drag-and-drop capabilities, SQL databases, windows search, and more. Channel Box PRIME also renders out and plays almost all MPEG I-frame codecs, including older LTV and QuickTime formats. All with the reliability you've come to expect from the leader in on-screen branding and graphics.
Which leads to this conclusion: The PRIME Ecosystem is by far the most advanced solution in the branding and clip playout space. More functionality, more flexibility, more features and a lower total cost of ownership.
That's a formula that's worth taking a closer look at, and we encourage you to do just that. It's a prime time to learn more about ChyronHego's PRIME Ecosystem.
Intrigued? Download our new White Paper below.