Here we are once again on the cusp of September, and that can mean only one thing – and I'm not referring to another NFL season, although that certainly comes to mind. Go Patriots! No, it means another IBC is upon us.
The International Broadcasters Convention, one of "the majors" on the global trade show schedule, has certainly evolved since my first visit to Amsterdam way back in 1994. Originally and by name focused solely on broadcasting and the technology used to put the air in "On-Air", IBC has expanded to include a variety of other audiences.
"While the art and science of live production remains at the core of what we do, our solutions portfolio reaches a far wider fan base, with sports leagues and teams chief among these."
ChyronHego, perhaps more than most other technology providers, directly mirrors the evolution experienced by the IBC. While the art and science of live production remains at the core of what we do, our solutions portfolio reaches a far wider fan base, with sports leagues and teams chief among these.
Indeed, for as much as we will welcome the likes of Sky Sports, RTL, BT Sports, SVT, and Canal+ Sport to ChyronHego's exhibition stand (Hall 7, Stand C21), we'll also look forward to welcoming top-tier football leagues, and clubs like Everton and Eredivise.
To give them and you a preview of the myriad of sports solutions they'll see, here are the top five reasons to visit ChyronHego at IBC 2018…
The Illustrated Replay™ Gets Even More Visual
Paint, ChyronHego's award-winning telestration and analysis solution for sports broadcasting, gets a boost with expanded technology partnerships and new features. In addition to Paint's existing integration with EVS slow-motion replay servers, there's an all-new integration with the LiveTouch replay system from Grass Valley. The latest version of Paint also includes new automatic player-tracking capabilities that remove the need for key framing, as well as a new tool for publishing telestrated content directly to social media, including Twitter, Facebook, Instagram, and YouTube.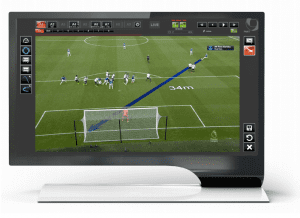 Paint Telestration & Analysis
Tracking the Changes to Virtual Graphics
Virtual Placement, our most sophisticated tool for seamlessly incorporating virtual graphics into any live broadcast, enhances not only its and integration with third-party, real-time-data sources, but also its direct data integration with ChyronHego's industry leading sports tracking solution, TRACAB Optical Tracking. In addition, Virtual Placement now includes improvements to scene tracking technology to factor in motion blur, an especially beneficial feature for horse racing.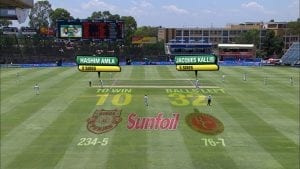 Perimeter Tracking On the Pitch!
Click Effects PRIME returns to IBC bigger and bolder than ever. Our graphics-authoring and playout solution for live arena- and stadium-based A/V presentations arrives with new features, including integrated perimeter tracking. Perimeter Tracking tracks a player's speed, total distance covered, and other stats live in-stadium on the perimeter, or football pitch-side LED displays thanks to an all-new integration between ChyronHego's TRACAB Optical Tracking and Click Effects PRIME solutions. This innovation opens up new opportunities for advertiser-supported fan engagement, and we'll demo this innovation live on the ChyronHego stand.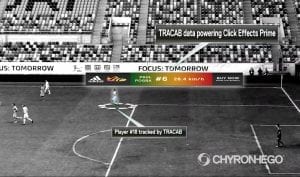 Eliminate Errors and Make An Assist
ChyronHego will unveil the newest version of Live Assist Panels, our innovative user interface and control panel creation tool. The Live Assist Panels platform leverages the latest multi-user web technologies to enable creation of custom-designed user interfaces for control of any ChyronHego product, and a growing range of protocols used by ChyronHego and by other leading industry vendors. Swing by the ChyronHego stand at IBC and see Live Assist Panels' new macro manager that enables customers to create sophisticated actions without the need for advanced scripting.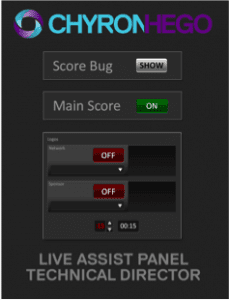 Sports ON, and OFF, the ChyronHego Stand
ChyronHego once again proudly supports the 4K 4Charity Fun Run – and you should, too! The 4K 4Charity Fun Run Series is a 2.49-mile (4K) running and walking event held annually in Las Vegas at the NAB Show and in Amsterdam during the IBC Show. Since 2014, this inspiring event brings together visiting broadcasters and technology providers in common cause. Since its inception, the 4K 4Charity has raised more than $690,000 in gross proceeds for global and local nonprofits that support increased diversity and inclusion initiatives. There really is no better way to get in shape for all of that "booth touring", than to lace up your running shoes for this great cause!