Q&A With Ivy Wee, ChyronHego's VP of Sales, Asia Pacific
Back in March, we announced the appointment of Ivy Wee as vice president of sales and John Foo as director of sales for ChyronHego's Asia-Pacific operation. Both are based in Singapore, where they're working to bolster the ChyronHego footprint and expand sales within the APAC region.
Ivy recently sat down with us to share some of her plans and objectives as she takes the helm for ChyronHego's APAC sales, marketing, and business operations initiatives.
First, belated congratulations on your appointment. We are so pleased to have both you and John on our team. What are some of the things that excite you about the market?
IWIt really is an exciting time to be joining ChyronHego. There are plenty of challenges, but also great opportunities to grow our brand within the APAC region. There is tremendous growth in 4K production here, and a few broadcasters are beginning to deploy 5G networks that will disrupt the traditional TV landscape. One example is South Korea, which provided a 5G network in live broadcast trials during the last winter games.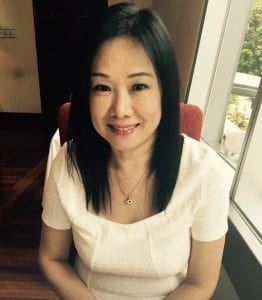 At the same time, broadcasters are picking up the pace on their migration from baseband to IP technologies, and momentum is building for cloud services to enable remote production. All of these trends play right into our core product strategies.
We're also looking forward to exploring new and emerging markets such as eSport, which has a powerful and growing presence in the region — especially in China. In one key development, eSport will be an official medal sport at the 2022 Asian Games, the boldest step yet toward mainstream recognition of competitive gaming.
The Asia Pacific region thrives on a channel-driven business model. What are some of the key initiatives you're planning to support existing partners and foster channel growth?
IWOur success is very much dependent on strong resellers with feet on the ground and true commitment to ChyronHego – partners who can do basic demos and provide our first line of support. Therefore, one of our top priorities will be to work with our existing partners to give them the resources, training, and marketing/sales tools they need for success with ChyronHego's many solutions across various markets.
Regarding training, we're especially focusing on helping partners build awareness of the ChyronHego brand in APAC and communicate the unique value our solutions bring to their customers. We're emphasizing the core message that our software is cost-effective, reliable, and easy to use, in support of producer-driven workflows.
As we're strengthening our efforts with existing partners, we'll also be looking to develop relationships with new and reliable resellers and systems integrators particularly in China, Australia, Taiwan, Japan, and the Philippines. We're also taking a look at our existing reseller lineup to identify candidates to provide post-sales support.
ChyronHego has a strong brand presence at major tradeshows around the world, and the APAC region is no exception. Having recently exhibited at BroadcastAsia 2018 at Suntec Singapore, what ChyronHego solutions were the showstoppers this year and why?
IWAPAC broadcasters face the same challenges as media enterprises everywhere. They need to generate more revenues in an increasingly competitive market, and that means engaging and exciting viewers who expect ever-greater sophistication in their graphics and programming. For that reason, I believe that our sports solutions – particularly Paint and Virtual Placement – were big hits this year at BroadcastAsia.
Paint is an award-winning telestration analysis tool for live sports, in use by thousands of productions every year, and Virtual Placement is the industry's most sophisticated tool for putting striking virtual graphics into any live broadcast. Besides a rich feature set, both offer sheer simplicity of use – which means anyone working on a sports production can use them whether in front of the camera or behind the scenes.
There was also plenty of interest in Prime Graphics 3.0, our universal platform that stacks an array of diverse applications into a single design and playout solution. Media professionals around the world and in broadcast markets of all sizes are embracing PRIME Graphics' "One Platform, Multiple Applications" model for everything from video news, sports, and entertainment, to government and corporate applications.