The INTELLICOMMANDER™ Keyboard for Lyric is an advanced control surface for ChyronHego products. It creates a customized user experience that merges ergonomics with accurate control by using dedicated mechanical switch interfaces and the dynamic, context sensitive interface of a touch screen. The custom QWERTY keyboard, dynamic and customizable information displays, and shot box-style fast access buttons streamline any graphics workflow.
KEY FEATURES:
Mechanical QWERTY keys for accurate, tactile feedback

Adjustable QWERTY backlighting for enhanced viewing in studios with low lighting

Customizable Relegendable LCD buttons to create your own optimized workflow

Cross Product Applications

Optional downstream USB 2.0 port for mice, jog wheels, and thumb drives

Rugged Solid Aluminum unibody construction to hold up to the rigors of a live production environment

Adjustable feet provide 3 work angles to optimize the surface to personal preference and optimum ergonomics

Integrated, ergonomic wrist rest

Cross product functionality for use with many ChyronHego products
Designed for live production operators and designers
21 FlexKeys
21 Fast Access Keys (Intelligent Keys):  Backlit LCD relegendable keys that can display monochrome 24 x 32 pixel bitmaps.  Each Fast Access Key can be individually configured with a bitmap and one of three background colors (red, yellow or green) or off.  This allows the FlexKeys to provide application and even scene/message level customization.
LCD SCREEN
The LCD screen provides a region for application-specific user prompts and status using a backlit 128×64 pixel display.
OPTIMIZED QWERTY MECHANICAL KEYBOARD
Innovative QWERTY keys – designed with the Lyric graphics operator in mind: The keys are a hybrid mechanical/dome construction offering the tactile weighted feel of a mechanical spring-loaded switch along with the immunity to environmental factors that a dome switch provides. The keys have integrated backlights with intensity adjustments for optimum viewing in all lighting conditions.
In addition to the normal QWERTY keys there are ChyronHego-specific function keys.  These are the lighter grey keys and provide application specific functions, easily accessible within the QWERTY section.
ERGONOMIC FEATURES
The INTELLICOMMANDER Keyboard for Lyric is designed for live production operators and designers.  Its unibody solid aluminum construction ensures that it can handle the pressures of day to day operations.  Weighing 7 lbs, the keyboard remains solidly on the desk without sliding under use.  The integrated wrist rest and tri-level adjustable rear feet ensure that all users can set up the keyboard in an ergonomically optimal configuration. Even visibility has been considered as the Qwerty Keys, FlexKeys and LCD screen are all back lit and brightness configurable.
USB CONNECTIVITY
The INTELLICOMMANDER Keyboard is a USB 2.0 device.  It is much more than just a standard Keyboard – it is a customizable USB workflow tool which includes a downstream accessory USB port for thumb drives, mice, and more. The optional USB accessory port is exposed by default, and its use can be optionally disabled.
FUNCTIONALITY
When the keyboard in plugged into a windows PC, it will function as a standard QWERTY keyboard with no need for any special drivers.  To enable the advanced functions of the keyboard, a ChyronHego Keyboard Driver is required. This driver exposes the basic functions of the keyboard to ChyronHego product applications and enables the advanced control surface.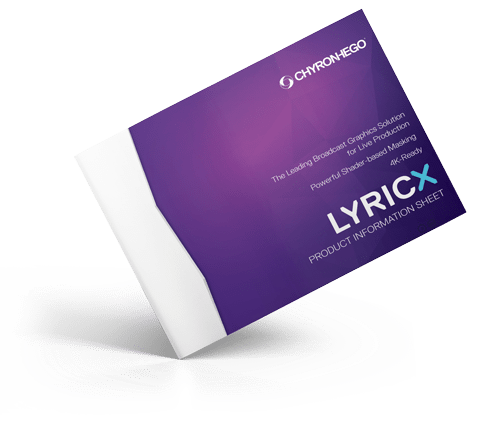 LyricX Broadcast Solutions