We've been busy at ChyronHego. We've been busy reimagining, reworking, and re-architecting solutions that provide more value, more performance and lower total cost of ownership.
Want a "prime" example? We give you ChyronHego's PRIME Ecosystem.
The PRIME Ecosystem is ChyronHego's new universal graphics platform. It is based on the latest version of our most powerful render engine, with support for graphics and a dedicated clip player.
The PRIME Ecosystem is software-based and not dependent upon hardware. Former hardware-dependent features such as DVE, clips, audio mixing etc., are now driven by software, making PRIME an extraordinarily flexible solution.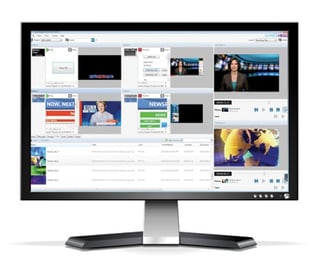 Many of you are likely already aware of the PRIME Ecosystem. It was officially released at NAB in April of this year, and it has already been sold to a number of customers in the form of Channel Box PRIME.
When development on the PRIME Ecosystem began, the goal was for it to become the next generation Channel Box. That goal has now been met and Channel Box PRIME is more than ready to face "PRIME-time" in the channel branding segment.
Channel Box PRIME inherits many of the innovative concepts from Channel Box 5, such as the scripting engine, the control panels, and its integration with automation. The PRIME Ecosystem also introduces many new and groundbreaking concepts, and its speed and ease of use are proving to be impossible to ignore.
PRIME is also a bit of a rebel in the world of broadcast graphics and channel branding. While it is, at present, dedicated to channel branding it definitely has potential outside of that space.
The PRIME Ecosystem offers our customers the ability to add optional software modules, or packages, that best suit their specific broadcast requirements. The first set of packages that will be released as part of PRIME Graphics 2.0 is the Branding Package and the Clips Package. PRIME's Branding Package and Clip Package can operate and play out simultaneously on a single system. This, combined with its Designer software and unique Warp Effects are providing ChyronHego customers with a much lower Total Cost of Ownership.
Intrigued? Download our new White Paper below.