DOWN & DISTANCE

 SOLUTION FOR AMERICAN FOOTBALL
Sports broadcasts that are graphically rich can boost ratings through the delivery of an engaging and easy-to-follow story for fans, both inside the stadium and over the air.
Virtual 1st, ChyronHego's innovative Down & Distance solution for American Football, is part of the most innovative end-to-end in-stadium fan engagement solution available, and currently seeing action with a number of NFL teams, including the Jacksonville Jaguars, New Orleans Saints, New York Giants, Green Bay Packers, and other teams.
Virtual 1st allows a single operator to quickly insert virtual lines of scrimmage, 1st down markers and animated graphics that are easily customized to match your unique on-air or in-stadium style. "Hands-free" operation is also available since Virtual 1st integrates with the NFL's GSIS data to automate the positon of the 1st down line.
Built on a fully blown virtual graphics package, it's easy to create custom graphics such as a sponsored 'red zone', field goal lines, virtual Jumbotrons, and other graphics that connect and engage your fans.
Virtual 1st offers lower Total Cost of Ownership and a higher Return on Investment. For example, do you need to provide custom graphics and sponsor promos to your stadium suites and the big screen? No problem! Virtual 1st lets you take one camera and create up to three unique outputs – each with their own individual sponsor or advertising logo.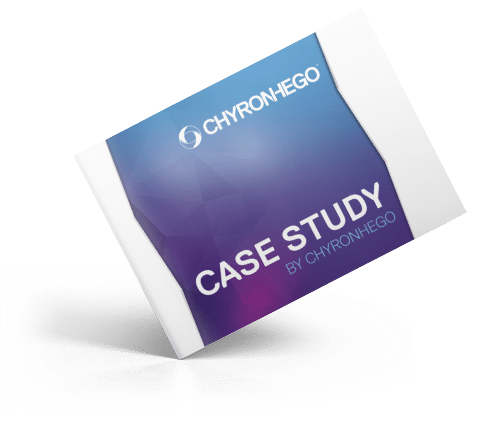 New Orleans Saints Bring Field Data To The Fans With ChyronHego's Virtual First

"This is what fan engagement is all about, delivering the same experience in the stadium that viewers are used to getting at home when watching a game on TV."
Video Production Manager, New Orleans Saints

Virtual 1st Demo
Brief demo on the latest Virtual 1st Down & Distance solution from ChyronHego.

​Leave The Camera Sensors Behind!
Virtual 1st removes complexity by employing sensorless camera tracking technology.
Go from set-up to live production in as little as one hour.
Enhance Your On-Air Brand.
Import animated graphics to create your own on-field marker style.

Using up to 3 camera feeds, Virtual 1st employs video overlay and sensorless camera technology within a single rack-mounted server.
Ideal for use in stadiums and mobile units, Virtual 1st features an easy-to-use interface including a powerful chroma key and functions without the need for camera sensors.
The system requires minimal operator training and broadcasters can go from set-up to air in as quickly as one hour.

DOCUMENTATION
Virtual 1st Product Info Sheet
Sports FX Engine Product Info Sheet

DOCUMENTATION
Virtual 1st Product Info Sheet
Sports FX Engine Product Info Sheet