A seamless transition is imperative when you standardize on a new graphics or playout system. Whether it's NewsTicker scripting, PRIME Graphics for stadiums, LyricX for a truck, virtual sets, or enterprise-level CAMIO hub-and-spokes, we provide commissioning and training that ensures you're integrated and ready to go live ASAP.
Training your technicians, operators, and producers will get the most out of your new investment. From large groups to independent Lyric Artists and Operators, speed and accuracy is imperative, and custom training classes from ChyronHego can ramp up skill sets quickly.
I spoke with Ross Greenawalt, our Manager of Professional Services about our Commissioning Services and Training. Prior to joining ChyronHego 7 years ago, Ross spent more than 20 years as a ChyronHego client, working as a CG operator, editor, director, producer, production manager, and PA – he understands your workflow. Ross even writes the syllabi for the classes himself – to make sure you get a custom integration experience. Here's what Ross had to say: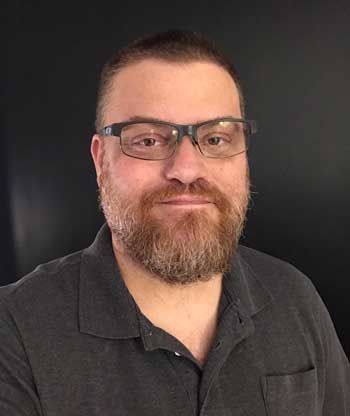 Your team gets gear and operators up and running quickly, and they perform on- and off-site training, describe your day-to-day:
RG: My day can swing a wide variety of directions since I'm scheduling multiple trainings and commissioning teams. I spend a lot of time talking with client partners and freelancers about our custom, on-site trainings.
I'm also on-site commissioning and onboarding engineers and talent so our clients ramp up as quickly as possible. We have regular check-ins with our client partners for technical assistance and project planning, execution, and follow-up.
During installs, your team focuses a lot on equipment communicating properly; what's the typical workflow for commissioning?
RG: We keep a rolling schedule 4-5 weeks out, so if we anticipate new gear for election season or a sports season, our clients call us early to schedule our time. The earlier the better so we can discuss custom installs and get our customers up and running fast.
Just how quick are the installs?
RG: We aim to make installs as seamless as possible. For larger installations – for instance, commissioning a CAMIO Cluster or DR system, a few LyricX or PRIME playout systems, a Toolbox, offline software for the graphics department, and maybe one or two other items – it can take up to a week to get all the systems fully commissioned and tested.
A simpler installation – such as a single CAMIO and a couple of LyricX or PRIME systems and an ISQ Viewer to control them – can be commissioned in just a couple of days.
We work onsite with system integrators and other vendors to ensure the products communicate; that speeds up the process and testing the intercommunication. Often the client is acting as their own system integrator, so we help them on the configurations they might need for peripheral equipment to communicate.
When we commission a newly-installed system, there is usually technical training for the local engineering or IT team, describe the onsite training we offer:
RG: We offer training on administrative areas (hardware setup, RAID management tools, creating and restoring system images, etc.), tips on troubleshooting, and basic workflow training. We make sure that our client partners' engineers understand how the day-to-day users need things to work.
We empower the local administrators to monitor system performance, as well as to address issues and questions that come up from their users.
Describe some of our training offerings:
RG: We have a variety of courses for end users, which can be conducted onsite, online, or at our headquarters in Melville, New York.
For newsroom users, there are individual classes for the LUCI plugin and the various Axis Graphics tools (News, Maps, Order, Charts and Quotes), which can be held in person or online.
Designers have several PRIME and LyricX course options to give them a solid background so they can build their own content using the key features and tools in the software, using best practices and other tricks of the trade to get the most out of the systems they have.
 We conduct regularly-scheduled PRIME and LyricX courses for freelancers and operators throughout the year at our headquarters in Melville, New York.
For those designer/users who are already comfortable using LyricPRO, we offer a LyricX course designed specifically to guide them through the differences, new features, and updated workflows in LyricX.
We also offer specialized course, shorter than the full design course, and focused on live operation tools and basic template modification for users focused primarily on playback tools and live operation.
Our complete Course Catalog, listing all the training courses we offer, as well as a schedule for the Melville courses, is available on our website. You can also email us at sales@ChyronHego.com.