Faced with ever-changing requests for graphics content, ChyronHego's Creative Services team cranks out real-time, animated graphics one day and custom data parsers and macros the next.

With a background in motion graphic design and project management, ChyronHego's Manager of Creative Services, Jason Toliopoulos professes that his mission is to make you and your content look good.
I sat down with Jason and asked him about the ins and outs of working through the creative services process, and it turns out that even though the deliverables are complicated, the creation and final products are smooth sailing. Here's what Jason had to say: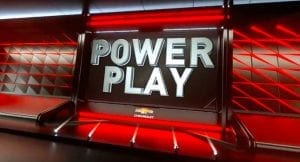 Tell me about what kind of content ChyronHego Creative Services provides: JT: Ultimately it depends on what our clients need. Clients usually come to me with a design idea and they are looking for advice and recommendations on how to bring their vision to air. We propose solutions depending on their workflow needs and the type of systems they'll be working with. Sometimes we're creating a simple time & temp bug and other times we're building out entire branding asset packages for large station groups. Other times we do custom development for automating a graphics package across dozens of stations with integrated elections data and statistics.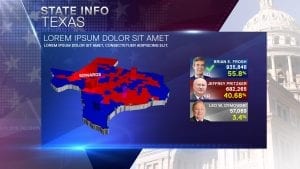 We do everything from creating original design using Adobe Creative Suite and Cinema 4D to building out a client's design using our Lyric or PRIME Engines. We also do custom development (things like data parsers for elections, scoring data, or scripts) to make their graphics come to life in ways they couldn't before. And, we provide workflow consultation – namely helping clients figure out how they can coordinate getting their graphics to air or the big screen (if they're a stadium customer).
In a nutshell, we create whatever content our clients need using the capabilities ChyronHego's product line has to offer.
SETTING THE STANDARD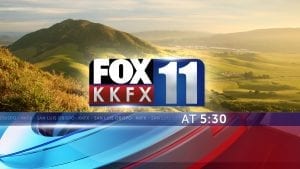 What are some of the projects you'll work on during a typical week? JT: We always have several active projects on the go, ranging from virtual sets to custom development in Lyric or PRIME. For example, this week we're working on an election touchscreen for a major broadcaster, a Lyric package for a stadium client, PRIME tickers for several different stations, data parsing for several state primaries, and gearing up for a tradeshow this summer.
What about the design, where do the ideas come from? JT: The best ideas come from collaborating with clients. Often times they'll send us a design their creative team has put together and we'll come back with recommendations on Lyric features that will add to it. On the flip side, some clients will take a design we've pitched and send it back with some really cool suggestions of how they'd like it integrated into their workflow.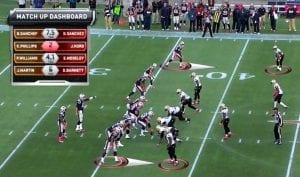 Because our clients come from all aspects of our industry – broadcast, sports venues, even big data – we get asked to do a lot of cool and innovative things. Whether it's implementing a detailed mockup for a touchscreen, or offering recommendations on next gen stats for major sports leagues, our clients are the best in our industry, so when we're coming up with a new idea or a new look, I try to learn from what they're doing so we're never starved for inspiration.
Tell me about the creative teams. JT: I'm really lucky to work with a talented group of people, both on-staff at ChyronHego and across our industry as freelancers. Between the product specialists – who are commissioning and training clients; the NewsTicker team – who are scripting and writing LOGIC files; and the very talented designers that joined us from the Click Effects acquisition – I work with a really diverse group of people.
Because every project is different, I'm often putting together project teams with very different skill sets – which means I'm often looking to our pool of freelance talent for help with specific tasks. We have a lot of diverse freelance designers, developers, and specialists worldwide, so  we can tackle any client project no matter how big or small because we can easily scale up if need be.
ON AIR – ON TIME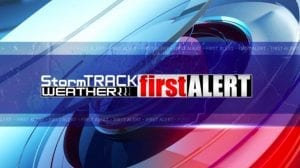 What is the turnaround time like? JT: Some projects, like a new facility launch, can have a timeline of over a year; it all depends on the client and their needs. More often than not, our clients are up against tight deadlines which is why they need our help, so we're used to very tight turnarounds and working efficiently. Having a project management background has helped me in building pipelines and workflows internally that let us respond to these tight turnarounds. So doing things concurrently – like having one person write scripts and macros, while at the same time having someone else build the graphic – can really help.
What do you love about working on the creative side? JT: I love working with so many different people who are all trying to accomplish a goal together. Whether its working with a client's team, or my own – I love that we're all being creative together.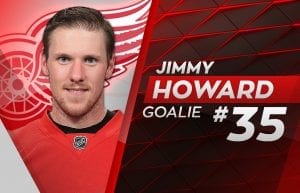 It's very rewarding to be in some random city somewhere in the world and see a graphic we made for a client in that market, or to be in a stadium watching a game and to see our graphics on the big board.
It's a really cool experience to start with nothing, and in a short time and with some hard work, create something that our clients are happy with – and more importantly, that their viewers can enjoy.
MORE INFORMATION
Whether it's launching a new station package, getting ready for election night, or the home opener for a major league team, they are always busy – and they always deliver. ChyronHego Creative Services provides a variety of services for our customers:
Design, Template Authoring, & Custom Development

Training & Commissioning

Project Management & Workflow Consultation
To watch the video with examples of content and to learn more about ChyronHego Creative Services, CLICK HERE.