Neon, our trackless virtual set solution, is turnkey and allows for a very rich production. The advantage of being trackless means Neon strips off the complexity of virtual set production by using virtual camera movements and internal chroma keyer capabilities.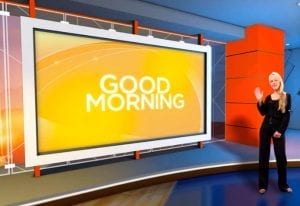 Templatize the Workflow
Neon integrates into our producer-driven workflow, CAMIO. This gives the producer the power to make all decisions in regards to virtual camera motions, images, and clips using a standard NRCS tool.
You can also create stunning 3D Graphics on top of the virtual sets that can be templatized the same way as you create templates for virtual sets.
The producer, thanks to CAMIO Universe, can fulfill virtual set templates with assets (clips, images) and virtual camera motions to create rundowns for future playout use. This allows the producer to be at the center stage of the production without having to know the underlying technologies.
Scalability
And, Neon comes in different flavors: Neon 3, 4, 5, or 6 – which means there are several different input/output configurations to allow for flexibility for your production needs. Also, Neon can be upgraded to our Tracking Virtual Graphics Solution, Plutonium – you keep the same hardware and just extend the capability package of the solution.
To learn more about Tracking versus Trackless technologies, you can download our white paper, Virtual Graphics: Camera Tracking Technologies Explained.
Watch the video below to see the demonstration of how Neon Trackless Virtual Set works inside the ChyronHego CAMIO Workflow: