Today, multitasking, device-driven audiences consume nonstop visual media. If you're in the radio business, your listeners might need more than just audio to thoroughly enjoy all of your content.
If you decide to add visual elements to your radio production, here are some of the things to look for in a self-contained solution: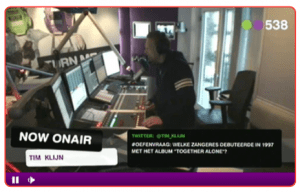 Full Automation

:

With audio level detection for smart switching and presets;
AI Smart Switching – based on mic audio levels

:

Use your existing microphone lines to setup AI Smart Switching. You want the output looks natural and dynamic;
Uses Any Audio Console:

Make sure it's audio-interface independent;

Audio-over-IP:

In addition to support for analog, AES, or MADI, look for a solution also supports audio-over-IP;

Auto Clip Playback:

For easy playback of synchronized clips, jingles, and commercials; and,

Multi-Camera Shots:

You'll want to define a variety of camera shots for each live microphone.
At ChyronHego, our VidiGo Visual Radio Solution offers all of those necessary elements – and we also offer varied levels of automation to help you succeed:
Camera switching based on measured audio levels and rules:

Automatically pick the best camera angle to switch live and automatically shoot relevant in-between shots with video effects like picture-in-picture;

Graphics Implementation:

Add logos, titles, and idents to brand the channel;

Dynamic graphics implementation:

Boost the user experience by adding graphics that will update themselves with the latest news or weather traffic with XML or RSS feed data;

Social Media Option:

Show messages from Instagram, Twitter, and Facebook to interact with your audience; and

Clip Starter Option:

Synchronize the music with video clips.
Take your radio show to the next level by giving your audience the chance to experience unique radio moments. Visual Radio engages your audience and turns your listeners into viewers.
To see how Radio 538 uses our VidiGo Visual Radio Solution, Download the Case Study.