Join us at the 2018 SVG College Sports Summit!
It's game on with ChyronHego at the SVG College Summit May 30-June 1 at Booth 306! Visit with us to learn more about our fan engagement and coaching tools and solutions.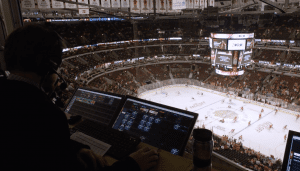 Give Your Fans More.
Today's sports venue producers face a challenge. Fans want to visually experience many of the same visual elements, such as enhanced graphics and play-by-play analysis that they're used to seeing on live TV.
Click Effects PRIME answers that challenge.

Click Effects PRIME is a highly integrated, turnkey graphics authoring solution for live arena- and stadium-based A/V presentations. With Click Effects PRIME, it's always any canvas size, to any number of outputs, in any resolution.
Engage. Teach. Prepare. Recruit. 
Coach Paint is a powerful and user-friendly video tool specifically designed for coaches of all sports.
Engage, teach, prepare and recruit your players in a way that not only grabs and keeps the athlete's attention, but lets them instantly visualize forma­tion, progression, alignment, keys and technique like they're used to seeing it on live major network sports broad­casts and highlight shows.
Get a Sneak Preview!
Ask about ChyronHego's new Sports FX Engine – the  all-in-one, multi-purpose, multi-sport graphics solution.
For complete event details, visit http://www.svgcollege.com/.
[post-carousel-pro id="13086"]