Hopefully, it is sunny where you are! Producing weather graphics doesn't have to be complicated – after all, weather graphics are data driven. With the right solution, weather graphics should virtually produce themselves!
When choosing a weather system, there is a lot to consider – here is a list of the Top 5 Things you should look for in a data-driven weather solution: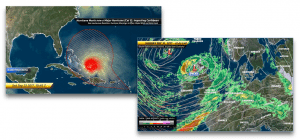 Data Freedom:

Your solution needs to be designed to accept any data – from standard World Meteorological Organization (WMO) formats to proprietary data and image formats. You can use your own data or use our services at ChyronHego for data provisions.
Adaptability:

Look for a weather application in a flexible Linux environment. This makes automatic weather content rendering simple. When you're serving a complex, multi-site station group with centralized production and distribution,

simplicity can save you headaches.

You can't cheat on weather reporting

.
Expanding Your Data: You'll need the ability to create derived data products from existing data. Make sure products like wind chill, 24-hour temperature change, or your custom "do-I-need-my-sunglasses-tomorrow?" weather are possible with built-in tools. Communicate with your viewers on your terms

.
Efficient Operation:

Your day-to-day weather workflow needs to be simple and easy to learn. Ensure the user interface caters to both meteorologists with tools for placing and editing data

as well as for the producers and on-air talent with drag and drop organization of the daily templates

and a clicker to support the live presentation.
24-Hour Phone Support & Free Software Updates:

Your viewers need accurate weather reports – fast. Your critical weather workflow needs to be secure. With around-the-clock phone support and long-term maintenance support, you need free software updates included with your software license agreement. And, remember to look for a Linux based solution for remote support, if needed.
Our ChyronHego Metacast solution offers all 5 of these features listed above – and more. Meteorologists love Metacast because they can easily refine their presentations with built-in tools that help find and highlight relevant data causing today's weather.
Established in 1993, our ChyronHego Metacast Weather Graphics Solution is used worldwide – we currently have Metacast clients on six continents. And, our customers are producing real time, high value graphics – working with dozens of languages and font systems.
CLICK HERE to see how Radio Télévision Suisse embarked on a new generation of data-driven weather reporting.