Weather and natural disasters in many ways drive the news wheel through large portions of the year, and being able to effortlessly and accurately report on, and enrich the storytelling from these events becomes a strong competitive differentiator for broadcasters everywhere.
With the proliferation of leading weather stories in broadcast, social media, and #hashtags that collate reports of each named storm system, the immediacy of producing high-value weather content on demand is critical.
Being able to promptly and precisely produce weather graphics – with relevant data to support a breaking story – is invaluable.
With 2017 well behind us, the end credits for the year are clearly readable – what a year it was for weather and natural disasters. Globally, 2017 saw more intense tropical systems in more places than in a very long time.
Weather lead the news in 2017, headlining broadcasts daily. The immediacy of accurate weather reporting was imperative to viewers to follow:
the events in the Virgin Islands, Dominica and Puerto Rico with Hurricane Maria;

Hurricane Irma in Florida;

Texas and Louisiana with Hurricane Harvey;

the California Fires, effects also compounded and caused by weather; albeit both a wetter-than-normal winter and a warmer-than-normal summer as a perfect pair for problems, both demonstrate how vulnerable even our modern day society is to weather driven events;

Globally, Typhoon Hato wreak havoc in China and Macau;

devastating avalanches that flattened villages in Afghanistan and Pakistan;

flooding in Greece;

gales, gusts, and storms in Ireland and Britain;

wildfires in Portugal and Spain;

landslides in Switzerland;

fires in Southern France;

destructive, unpredicted wind gusts in Moscow;

disastrous famine in Africa;

earthquakes in Turkey, Mexico, Iraq, and Iran; and

monsoon rains causing widespread destruction in India, Nepal, and Bangladesh.
The list – and devastation – appears to be endless.
For the United States, 2017 was the costliest year on record for natural disasters – with the total costs estimated well over $300 billion. FEMA Administrator Brock Long told the US Congress in October 2017, "To say this hurricane season has been historic, is an understatement."
And, as always, this is where the broadcasting responsibility comes in, making sure that the public is weather aware and weather prepared.
Among our offerings in our CAMIO Universe workflow, we offer a fully integrated ChyronHego weather content production facility for producers and meteorologists alike. To help you be better prepared and to help you get information to your audience.
For more information, download our case study, Delivering High-Value Weather Content to a Global News Audience.
See a preview of our latest news workflows – including our weather solutions at our NAB booth #SL1208 – to schedule a meeting with us at the show, CLICK HERE.
Until next time; stay weather aware and weather prepared!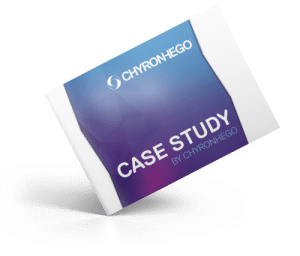 CASE STUDY
Delivering High-Value Weather Content To A Global News Audience